Studs
Teddy and Platinum are PK Def Normal & PRA Normal & blood type A
Our Stud Boys are HCM Normal and screened yearly ❤
Libertybengals Charcoal Addiction (Teddy)

HCM Normal
Our amazing stud boy Teddy all the way from the USA is a silver/snow Apb/Apb
He has the most amazing healthy pdeigree, awsome type and structure, amazing muscle tone, a head, profile & chin to be proud of
so looking forward to watching this boy grow and develop and produce amazing charcoals with our girls here at Summerspride Bengals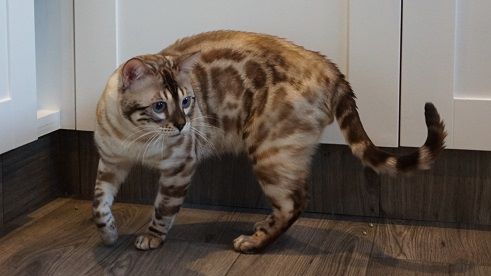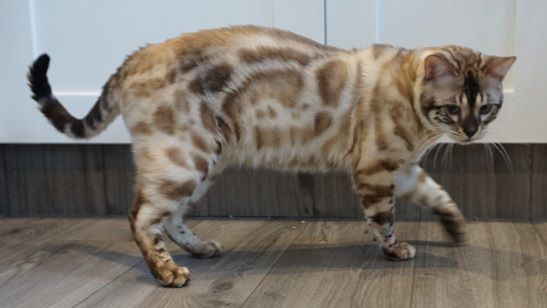 Britaniabengals Platinum Secrets
Photos and info coming soon
All photos have copyright attached to them thank you
Sambuca and Snowball now retired
Our stud boy RW SGCH Silverstorm Purrfection
Silverstorm Purrfection is Best Silver Bengal in Western Europe 2013/2014 & 2014/2015
Silverstorm Purrfection is Best Silver Bengal Internationally WOW!!!
We are very proud and excited to anounce
RW Supreme Grand-Champion Silverstorm Purrfection (Sambuca) has been awarded International Best Silver Spotted Bengal of the year!
Sambuca is son to RW Supreme Grand-Champion Silverstorm The Maharajahs Cat
SIRE:
RW SGCH
Silverstorm The Maharajahs Cat
DAM: Silverstorm Eskimo Kisses
Sambuca our silver boy is big and muscular like his father. He has a short, clear,glittered pelt with no tarnish and good contrast. A straight profile rolls up into his domed top scull and backscull, and he has a beautifully deep strong chin.Carrier of Non-Agouti (A/a) so could produce charcoal with the right breeding, and Siamese colourpoint He has the most Amazing temperament and likes nothing better than to be cuddled and kissed we are so excited to see what he produces with our girls and how he does at show, Sambuca became a Champion at his first adult Tica cat show :-) Well done :-)
Sambuca is now a SGCH after only attending five adult shows Just Amazing.
Silverstorm Purrfection is Best Silver Bengal in Western Europe 2013/2014 Wow :-) taking after his dad Rajah :-)
Sambuca is now a Regional Winner and Best Silver Bengal Cat in Western Europe for a second year running :-) 2014/2015
Thank you so very much Liz for entrusting us with such a special boy :-)
Sambuca
Sambuca taken by Robert Fox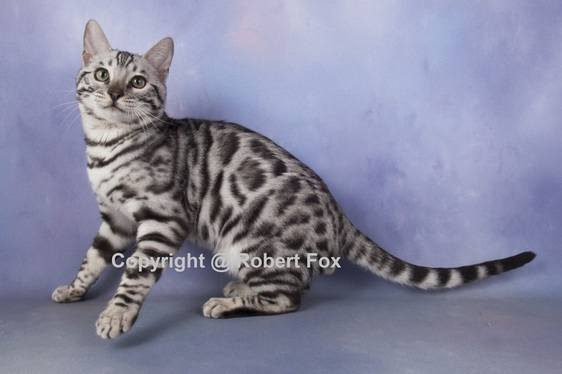 Amazing photo taken by Amy Thompson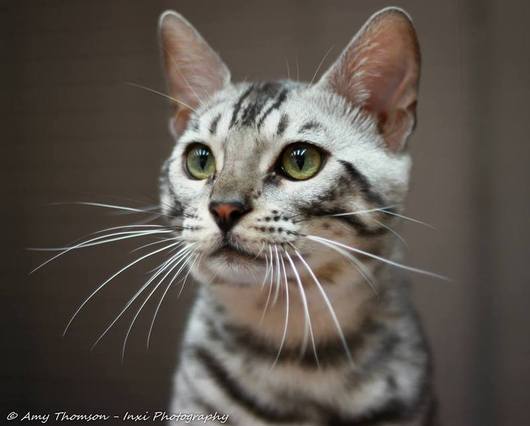 TGCH
Summerspride Snowball
Snowball has gain the award, Best Seal Silver Spotted Lynx Point Bengal In Western Europe 2015/2016
Third Best Seal Silver Spotted Lynx Point Bengal Internationally for the year 2015/2016
Taking after hid Dad Sambuca and Grandad Rajah

Sire
RW
SGCH
Silverstorm Purrfection
Dam Shimmershine Frozen Love
Snowball our very first home bred stud boy from Ariel & Sambuca, is a silver seal-lnyx point I just love every thing about him,
awsome head type with a convex profile rolling up over his head, forming a perfect rounded front.top & backskull,
his eye colour is a crisp clear blue, His chin is very strong and deep with the most gorgeous puffy whisker pads, his coat has a crisp clear
white background with well contrasted rosettes He has a long muscular body with a tight sleek coat, He has the most amazing temperament just like his mum and dad and we are very excited to watch him grow and develop here at Summerspride Bengals.Snowballs kittens are just awsome like him they all develope his amazing chin and head type with the sweetest nature :-)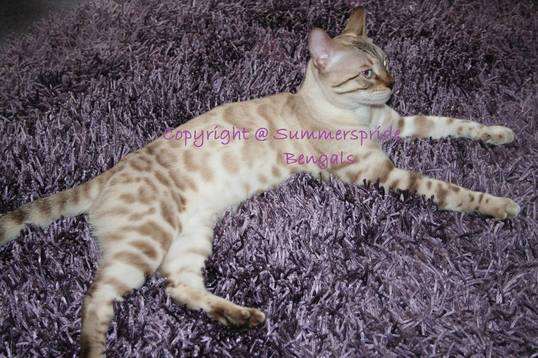 TGC Summerspride Snowball all grown up :-) just stunning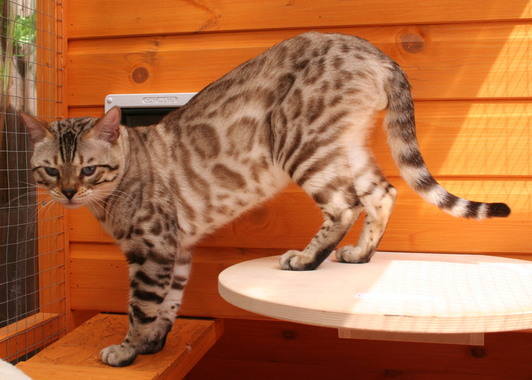 All photos have copyright attached to them thank you
Junglecubz Romeo of Summerspride/

Now Retired
Romeo arrived at Summerspride Bengals in June of 2009, he is everything we could have wished for & more; he is a very big muscular boy, he has the most amazing rosettes, fantastic profile, puffy whisker pads and the smallest of ears, beautiful emerald green eyes. He is covered in gold glitter, purrs constantly, loves his cuddle and has the most amazing of temperaments, he is just a big pussy cat, so soft & gentle his loving soft nature follows through in all of his kittens, we are so lucky to have such a loving stud boy.
Romeo was our very first stud boy, now retired and being very spoilt
Our very beautiful Romeo
Photos taken by Robert Fox
Copyright Robert Fox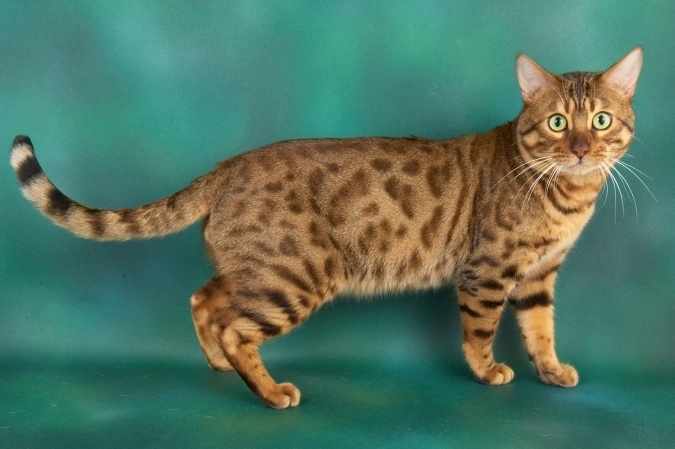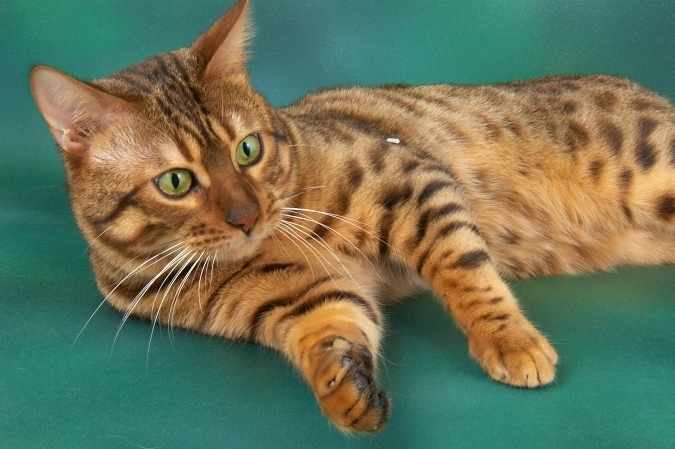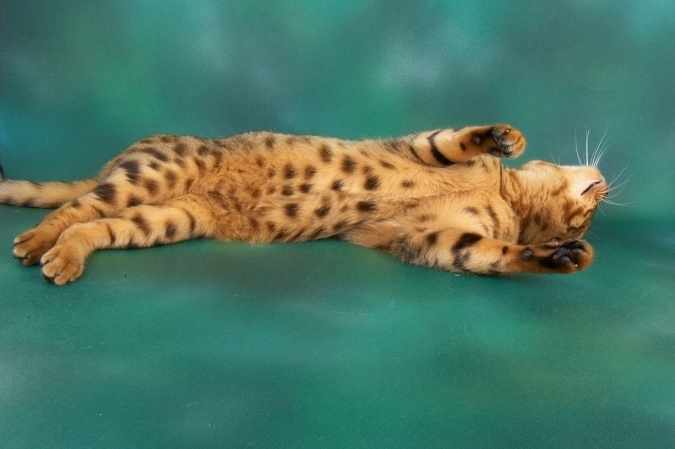 Romeo loved his photo shoot with Robert Fox
Romeo was just a big pussy cat :-)
PurebengalsGB Just Too Funky (George) Now Retired
PK Def Normal Pra-b normal and HCM Normal August 2017 & 2019
George, named after the amazing George Michael is a Silver Apb/Apb carrier of Lynx
He has the most amazing temperament, big strong muscle/boned body with a lovely pattern and his head is of good bengal type,
puffy whisher pads and a strog chin, wide nose leather,nicely placed small rounded ears, amazing eye shape and colour and black mascara to match.
he has a nice profile with good doaming to front/top/back skull matched with our girls excellent bengal type he should produce
some stunning charcoal kittens and Apb/Apb for us :-) excited to watch him grow and develope.Thank you Alison for this amazing boy.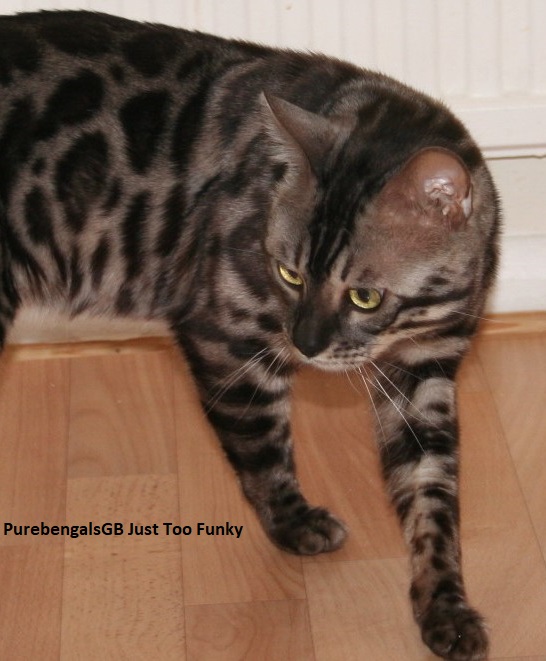 Romeo & Sambuca have been tested for FELV/FIV and are negative
all photos are property of Summerspride Bengals please DO NOT COPY Thank you